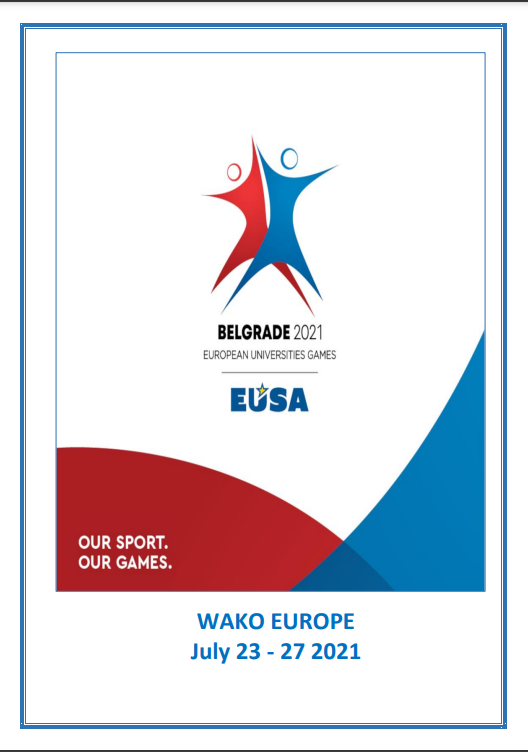 5th European Universities Games 2021
5th European Universities Games 2021
(PF, KL, FC, K-1 – students)
Place: Belgrade Athletic Indoor Stadium, Belgrade, Serbia
Dates: from 23rd to 27th July, 2021
Dear Presidents and General Secretaries of WAKO Europe national federations,
As you know, kickboxing with its 4 disciplines (point fighting, kick light, full contact and K1 Style) is included in the EUSA Games Belgrade 2021 – sports games of European universities. here below enclosed you can find the brochure with an invitation letter to be forwarded to your clubs.
It is very important that students – members of clubs apply to their university sports associations and apply for the EUSA Games 2021.
The National Kickboxing Federation decides independently how to organise qualifications for the EUSA Games – separate student championships can be organised or qualifications or can be held as part of regular national championships.
But in this whole process – applications, registration and participation, very close cooperation between national kickboxing federations and local universities and their sports associations is necessary.
Students – kickboxers represent their universities at these games, not national kickboxing federations.
An unlimited number of universities can apply from each country, and an unlimited number of participating students can apply from each university.
Registrations deadlines are same as previous years:
General Entry – 3rd deadline: March 15th
Quantitative Entry: April 15th
Individual Entry: June 15th
Travel Plan: June 15th
The current Covid situation is not rosy but new registrations are coming in and we hope that with promotion and time we will have a full competition.
You can follow the registrations via EUSA Registration platform. For assistance please go through the document attached.
If there is anything you need and you have questions or need additional explanations please contact me by e-mail: td.kickboxing@eusa.eu
All instructions are attached.
Best regards,
Romeo Desa
EUSA TD for kickboxing
WAKO Technical Director
Læs mere her:
EUSA GAMES – Belgrade 2021 – KICKBOXING – Borchure